As digital trends continue to change, and social media platforms become a more dominant tool, content marketing continues to be at the forefront. If you look at the digital marketing landscape, it's multiple networks, tools, and websites pushing out the same thing – content.
The 2019 B2B Content Marketing Institute (CMI) found that 56% of companies reported an increase in spending on content creation. Why? Because, when done right, content marketing can boost website traffic and increase conversions and revenue.


1. Don't Just Tell Facts, Tell Stories
Storytelling connects you with your audience and makes your brand more relatable. Especially powerful in the senior living industry, storytelling will allow users to visualize themselves or their family members in your community.
Tell stories about your company, how it got started, and your mission. Telling your brand's story can help set you apart from your competitors. Tell stories about your residents and the caregivers who make your community a home. Community and staff members are your biggest assets because they are already advocates of your brand. Use their voice and their stories to highlight your senior living community!
2. Speak to

YOUR

Audience
You have likely heard or read about the importance of knowing "your audience." This is an area where data-driven marketing is vital. One of the goals of your content marketing efforts should be to provide your audience with the right content at the right time. You can't be successful at this if you don't know who your audience is or what they are looking for.
Furthermore, you should use your data and adjust your content marketing strategy as your audience shifts. Perhaps over the last six months, 50% of your target audience has been the adult daughter. However, new data is showing that the adult daughter audience decreased to 10%, and 60% is now the potential resident. Make sure you are adjusting the language and voice of your content to speak to your largest audience.


3. Set S.M.A.R.T. Goals

The purpose of a content marketing strategy, or any marketing strategy, is to achieve positive results, and setting SMART goals will help.


Specific – Be specific in the goal's purpose. Instead of "increase website traffic," make your goal "increase website traffic from social media."
Measurable – You want to be able to track and measure the progress. Instead of increase website traffic from social media," make it "increase website traffic from social media by 15% by next quarter."
Attainable – Is this a realistic goal? "Increase website traffic by 500% by next month" is ambitious, but realistically, is it possible? Creating unrealistic goals will only set up your team, and your business, for failure.
Relevant – How does this goal relate to the overall goal of your business? Getting more Facebook likes is great, but how will you turn those likes into customers? Using past data can help you figure this out. If last quarter, 60% of your closed deals came from social media, then this goal would be relevant. If only 5% came from social media, maybe you should reassess your goal.
Time-bound – Adding a time limit to your goal will help you stay on track. Deadlines help you make consistent progress over time.
4. Be Patient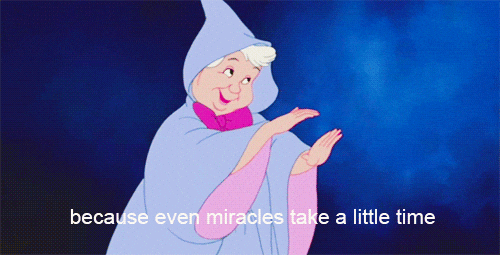 Depending on your content marketing strategy, significant results will take time. If your strategy focuses on written content efforts, it can take up to six months for search engines to index and rank your content. While a strategy focused around increased content on your social media channels may yield quicker results.
The benefit of a content marketing strategy and SMART goals is that they allow you to review and revise. If your SMART goal is to increase website traffic from blog posts by 25% by the end of the year, and you don't meet this goal, do your research and find out why.
How many blog posts did you post during that period?
Were they properly optimized to be found organically?
Did you share these blogs through email marketing, social media, etc.?
During that period, which blog topics performed the best? Which performed the worst?
Answering these and additional questions can help you understand and revise your strategy to reach future goals.
If you would like to learn more about content marketing or find out how Markentum's team of marketing experts can help your senior living community, contact us for a free evaluation!