Summer is upon us, and regardless of current restrictions surrounding COVID-19, social media feeds are slowly filling with summer activities, DIY projects, and Pinterest snacks. As people are spending more time outdoors, how do we keep our social media audience engaged as they enjoy the summer season?
For many of us, summer months are a time to "check out" of our social media pages to partake in all the exciting activities and events that the season brings. For this reason, many companies' social media engagement starts to dwindle. Luckily, there are several photo opportunities and potential social media promotions for senior living communities during the hot season.
The summer slump is real and can impact your community's social media marketing and engagement significantly. It's important to keep your social media pages active to help fight the summer lull and keep your senior living community top of mind and relevant on social media.
Markentum put together a list of creative ways to promote your summer activities and events to improve your social media marketing efforts!
Get Visual with your Audience!
Summer is a beautiful season making it the perfect time to show off the visually appealing and inspiring summer activities your residents are participating in. You can use this opportunity to refresh photography, share photos, videos, etc. on your social media platforms. Examples could include:
Celebrating summer holidays is another great way to capture pictures of your community, residents, staff, family, and friends enjoying the holiday event. The Fourth of July and Labor Day are both benchmark holidays for the summer season throughout the United States. If your community is hosting a (socially distant) event, make sure to snap some great photos!
With a quick search, it's easy to find a list of unique, fun holidays to celebrate - things like National Blueberry Month, National Watermelon Month, or National Chocolate Chip Cookie Month. Any celebration can be a social media marketing opportunity!
Beyond holidays, depending on your community's geographic location, the summer is a great time to refresh your marketing photography and capture images of your outdoor spaces. Flowers and gardens are in bloom, the sun is shining, and the sky is blue - take the opportunity to highlight all areas of your community.
Lead Generation and Social Media Marketing
Lead generation is the process of attracting potential customers to your business. When it comes to senior living, we know that individuals have dozens of options to choose from when it comes to a retirement community. This is where promoting your community on social media comes into play.
Being consistent is key. Life enrichment activities in your community can be an excellent opportunity to strike pictures of residents, staff, family, and friends, engaging and having fun with summer activities. Utilizing these photos on your social media platforms can allow more engagement with your audience and grow your list of followers.
Summer-Themed Events
Summer-themed events and activities are a great way to get into the spirit of the season and they can be a huge hit at your community! Take advantage of the countless amounts of summer-focused ideas you could use for life enrichment activities.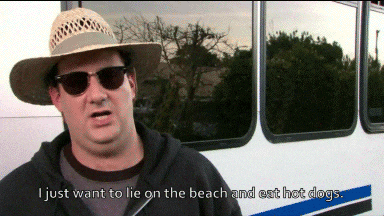 Whether you're creating a fun luau, or kite decorating with residents and staff, summer themes are an easy way to capture pictures to promote your senior living community on social media. Adding a pun, fun twist, and/or emojis to your photo caption allows you to make it light and fun, and engage your audience to react bigger and interact more. ☀️🍉😎
Consult with a Social Media Marketing Team
A social media marketing team, like ours at Markentum, plans, implements, creates and monitors social media pages and builds strategies to increase brand awareness, improve marketing efforts, and increase revenue.
Markentum's social media marketing team keeps up with current social trends in the senior living world and across all industries. We have a passion for senior living and want to help you improve your brand! Our social media marketing team's role is not to "run" our partners' brand but to help their brand grow.
Having creative help from a social media marketing team can elevate your content this summer (and all year!). Whether it's implementing more hashtags, adding more emojis, coming up with fun captions, or enhancing a photo, these things can help grow your audience engagement during the tranquility that summer brings on social media.
☀️☀️☀️
Interested in enhancing your senior living community's social media marketing? Let's discuss whether our social media services are the right choice for your digital marketing efforts! Schedule a free consultation and learn more about how Markentum can help expand your community's social mark!