A year or so ago, it seemed like everywhere I went, people were trying to use the term "disruptor" in a cool, new way. Creating excitement around telling a story in a new way is the bread and butter of effective marketing, but the excessive use of this word was exhausting and, frankly, boring.
After a while, the moment someone used the words "disruptor," "disruption," or "disruptive," my ADHD kicked into overdrive. Disru... no! Now, in the middle of a truly disruptive moment in the history of our world, all that previous conjecture seems a bit shallow.
COVID-19 has changed our lives. Time will tell how far-reaching the impact will be. Companies, education systems, governments, you name it; there are global implications to how things could be different from here on out. People are talking about recovering, but, as a good Floridian, I am aware that you wait until the entire hurricane has passed before you go outside to assess the damage and get back to rebuilding.
What I do know is that, amid this pandemic, teamwork is as necessary and needed as ever before. We are a communal people by nature; we gravitate towards groups, small and large. Our resilience as humans is commendable and should be celebrated. Here are a few ways that Markentum, a digital marketing agency focused on senior living, encourages teamwork in and out of crisis.


Continue Making Meaningful Moments Happen
"Small changes and small steps can create massive impact." Melissa McCreery
At Markentum, we believe in making time for meaningful moments that benefit everyone on our team regardless of title or position. These high impact moments continue whether we are together virtually or physically.

Grow Your Mark


This weekly meeting happens on Monday mornings for 30 minutes and allows our entire team to gather together to talk about what is happening with our company, provide details of specific departmental growth for everyone, learn a trait that enables personal development, and speak with our peers.
Our goal is to create an atmosphere that encourages our team to grow. Markentum, as a marketing agency, believes that we shouldn't just make a mark and move on, but we should grow our mark, which means caring for something and seeing it through to success.


One-to-One Meetings
Every week, each team member meets with their direct manager to discuss change and opportunity. This conversation provides the platform for a closer look at the challenges being faced and the solutions available to overcome them. We encourage goal setting in both personal and professional areas and want teams to work together to remove obstacles and find success.

Markentum Monthly Meetups
Once a month, we gather as a company to accomplish two things:
We GIVE kudos to each other as a way of celebrating each other publicly so that value is shared.
We also ask our department leaders to share their GROW for the month, which allows them to highlight the successes of their team, new areas of advancement, and the ways that they were able to achieve victory over the challenges they faced.
This is also a relaxed time to learn more about each department's team members and encourages connection between people who might not regularly connect.


The Buzz

During COVID-19, we have also started something called The Buzz. Every Tuesday and Thursday, we join a casual Zoom call for 15-30 minutes to talk about what's happening in the world. Topics so far have included Tiger King (we know you did it, Carole), our pets, favorite curbside food spots, and fishing. With so much time dedicated to either anxiety-inducing news or work-related projects, we wanted to provide a time for our team members to have conversations that are lighthearted and promote joy.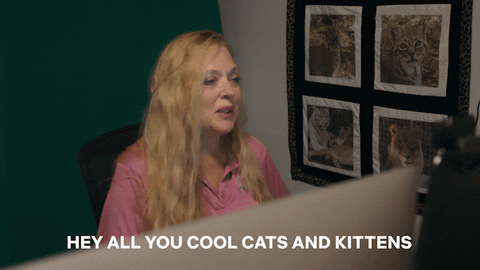 Whatever your idea of meaningful moments looks like, keep making them happen. The ongoing interactions that we have allow us to share in the challenge and comfort of whatever we are facing.



PROVIDE THE NECESSARY TOOLS FOR SUCCESS
Thankfully, prior to COVID-19, we already had team members that were working fully-remote and had made the decision to empower all of Markentum with the ability to work from a variety of locations. What we have learned is that giving our team members the necessary tools equips them for success. Here are some of the most important tools that we cannot function without!


Google Suite
Being able to virtual connect through the full suite of Google tools is vital. From calendars, emails, chat to cloud-based file sharing, presentation building, and document sharing, Google allows us to collaborate with ease and stay in communication through it all.
Projects can move quickly from team member to team member through their various stages of completion. Partners can also utilize the storage available, which can increase our efficiency in getting edits and finalized projects implemented. Plus, with so many integrations available with other tools, Google just makes sense for us.



Wrike
There are lots of task management tools out there, and we choose you, Wrike! With all the different services that Markentum provides for our partners, we need a robust system that can easily organize and categorize partners, departments, and pertinent information.
While developing and maintaining a system as complex as Wrike takes time, the investment is easily worth having a singular platform that provides access and insight into tasks that are being worked on. Trade in the spreadsheet for a cloud-based solution that keeps everyone on the same page!


Zoom
We have been utilizing this conferencing tool for over three years and we are excited to see everyone finally getting on board with how easy it is to reach out and connect virtually. Zoom allows us to communicate!
Having a conferencing tool enables all of Markentum to participate in our meaningful moments. From business development to web team stand-ups, all of our departments use this tool to talk through projects and stay connected. Plus, with Google calendar integration, scheduling, and maintaining, these meetings have never been easier!


HubSpot
Marketing automation provided by HubSpot means having one centralized platform to perform all of our omnichannel marketing efforts. Not only are we able to perform those tasks, but we can also measure them and analyze the data. This information is invaluable in proving the effectiveness of digital marketing to our partners.
Each month, we give our partners strategic insight into what is working, what isn't working, and the adjustments that need to be made. HubSpot also has an open API that allows us to connect the contact data with other industry-specific CRMs so that we can increase the efficiency of our partner's teams. Win, win, win!
Bonus Note: Make sure that you provide ongoing training to both your team and partners. These tools grow and change as well, and it's important that everyone is aware of how to continue to use the tools effectively.



FLEXIBILITY IS NOT JUST FOR YOGA
Adapt, learn, grow. Companies that were opposed to allowing team members to work remotely are singing a new song now. If you are stuck in your ways, you are exactly that, stuck.
At Markentum, we strive to live out the mantra that the best idea wins. With a myriad of different personalities, learning types, and skill sets, our best course of action is to give room for change. We want to make sure that we don't miss out on the valuable contributions within the minds of our team members. So stay flexible. Make time to listen to new ideas.

No matter what it looks like on the other side of COVID-19 or any other crisis, one thing we believe in moving forward is that the strength of our work lies in the strength of our team. Without the ongoing collaboration of everyone at Markentum, we will lose out on the most important part of our work, the ingenuity of everyone involved.

If you would like to learn more about how our team works to bring the strength of marketing to senior living, reach out to us today. We are only a Zoom call away. You can pick whatever background you like. Let's grow together!