When developing a content marketing strategy for your senior living community, it can be challenging to create something that's captivating every time. Inevitably, content will run thin, and it will be necessary for your community to focus on a wide variety of topics if you wish to continue creating content that is unique and impresses your audience. Your community's content marketing efforts must be relevant to readers' interests, the community, and your brand as a whole if you wish to generate leads, promote an event, or inform your audience.
Markentum is an inbound marketing agency in Daytona Beach, Florida that specializes in creating and promoting content for senior living communities that wish to grow their brand. By working exclusively with senior living communities, we have narrowed down a few ways that you can leverage your community to supplement your content marketing efforts.

1.
Residents
Your residents are an essential component of your content marketing strategy. Your leads want to see that residents in your community are enjoying their time, staying engaged, and creating memorable experiences. If you would like to focus on residents, be sure to learn about each of their stories, traditions, histories, and values. Other residents would love to see their friends on your website or a community flyer!
Once you have a complete understanding of a few of your outstanding residents, highlight them and show the world that your community is full of interesting, exciting seniors! Views, likes, comments, and shares from staff, other residents, and families will follow!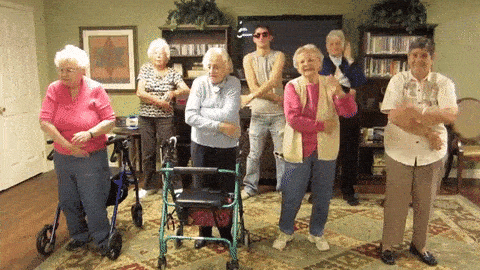 2.
Staff/TEAM Members
The staff in your community is just as amazing as the residents! In many cases, your staff members have exciting stories about how they got into the senior living industry, their family histories, incredible accomplishments, and more!
It is also important to leverage these stories to bolster the reputation of your team. Discuss experiences, schooling, challenges, and achievements to inform your residents that they are in good hands.
Residents and family members get excited when they see that staff members in your community are regular people with incredible stories. Show that your senior living community cares about its staff by highlighting them in monthly blogs or a page on the community's website can do a lot for your marketing initiatives. You may not realize it at first, but each staff member can provide a wealth of valuable content for your content marketing efforts.
>>> Meet Our Inbound Marketing Team!


3.
Community Events

🗓
Community events can be an excellent way to engage residents and guests, as well as reinforce your content marketing efforts. Events that your senior living community hosts, especially those open to the public, should be promoted as often as possible to increase turnout and further nurture leads.
For example, if your community is hosting an event for Alzheimer's Awareness, make sure to answer the "who, what, when, where, why, and how" questions to make sure that your audience knows why the event is significant to your community's values. Doing this will not only increase attendance at your gatherings, but it creates content that you can incorporate into a calendar of events or an online announcement for family members!


4.
Community Initiatives
Highlighting social initiatives that your community takes can be the perfect solution to a lack of content. For example, if your community supports veterans by offering a reduced price or a unique fundraiser, make sure to capture that heart-warming moment and put it into words.


Beautiful stories that change lives entice people to want to learn more. Create a story and tell the world!


Showing the world that your community is selfless and caring about its residents can create an excellent personality for your brand and help your content marketing efforts as well!
The Markentum team believes that it's impossible to run out of content as long as you plan your strategies correctly! Although we've only listed four ways to create content for your community, there are endless ways to generate meaningful content.
Get creative, appeal to your audience, and start creating groundbreaking content with the help of Markentum. Get started today by getting a free evaluation!